Racial justice is central to the work we do at Impact Justice. In every part of the justice system, inequities and disparities persist and continue to impact communities of color. In our nation and world, we see daily evidence that racial divisions are ripping apart the social fabric, causing pain and harm. This drives many of us to seek opportunities for understanding and healing.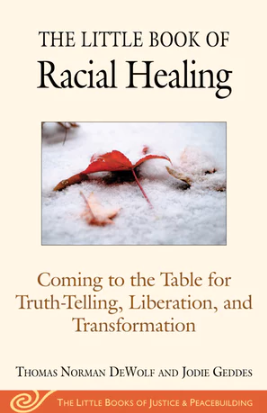 That is why Impact Justice is honored to host two thinkers about racial healing, Jodie Geddes and Tom DeWolf, for our upcoming Impact/Ideas event. Please join us on Thursday, April 18 from 1:00 – 2:30 p.m. at our Oakland office, as they discuss their new book, The Little Book of Racial Healing: Coming to the Table for Truth-Telling, Liberation and Transformation.This panel discussion will be hosted by Ashlee George, Associate Director of Impact Justice's Restorative Justice Project. Light refreshments will be served, and the panel discussion will be followed by a book signing opportunity with the authors.
The Little Book of Racial Healing shares a hopeful and positive vision of a just and truthful society that seeks to heal from the racial wounds of the past. It offers tips for listening and building accountable relationships, and taking action to create the future we want to share. Restorative justice leader Howard Zehr calls it a "timely, much-needed and practical book."  
I invite you to join me in attending this important conversation. Admission to Impact/Ideas events is free, but space is limited, so please register for this event.
RSVP via Eventbrite: https://www.eventbrite.com/e/impactideas-discussion-on-racial-healing-tickets-59721300016