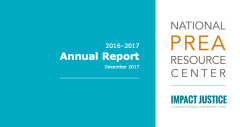 Download
The National PREA Resource Center (PRC)'s 2016-2017 annual report highlights its many accomplishments over the past year, including:
PRC's transition to Impact Justice
Updates on PREA audits, communications, and training and technical assistance such as:

The issuance of the PREA Auditor Handbook
The development of a pilot PREA Champions project

A look ahead to the next year.
The PRC's work, with strong support from the PREA Management Office within the Bureau of Justice Assistance at DOJ, was geared toward addressing both ongoing needs and building new areas of capacity. The PRC trained and provided resources to a growing cadre of training and technical assistance providers around the country with diverse correctional and law enforcement experience in an effort to magnify and institutionalize the PRC's work. It worked to significantly raise the practice of PREA auditors through multifaceted interventions that frontload resources into training and preparation, probationary reviews of auditors prior to their certification, and quality improvement efforts that support stronger audits through the life of a DOJ-certified auditor's career. And it strengthened old and built new information systems that allow it to better track the assistance and services it provides.