In the city where I grew up, police brutality was an issue rarely discussed because it was common and something that often happened to my closest friends and me. Parlier, California, is a poverty-stricken Hispanic community. In this small town, gang violence was a common occurrence and police encounters were a must.
It was well understood early on that the local police department was the enemy. The homeboys often experienced police brutality. We all shared information concerning some police officers we especially disliked.
An incident I still remember happened at the local high school. I was sent to the principal's office for my gang affiliation. I had a shaved head, red shirt, Dickie shorts and some red Chuck Taylors. After waiting for a bit, two police officers walked into the office. The principal was behind them. They asked the principal to wait outside.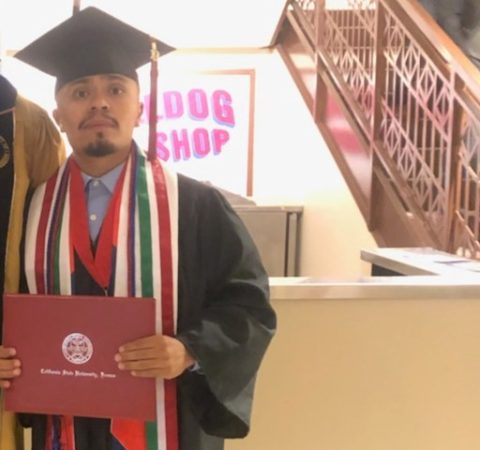 I remember thinking to myself, "These are the pigs all the homeboys have talked about in the streets." One of the officers directed a mean mug in my direction. We both mean mugged each other for a couple of seconds before he began insulting me.
"What are you looking at, little bitch?" he said loudly. I mean mugged the officer even more as he questioned my gang affiliation.
"Who do you run with?" he asked. I replied, "Nobody!" He asked again, "Who do you run with?" I replied even louder, "Nobody!"
He then stopped, looked at me and said that he knows I run with Norteños (a central and northern California gang). I did not say anything.
The other officer told me to get up and put my hands behind my head and I did as I was told. He came behind me and placed a Taser behind my head and said that I was not so tough anymore. He kicked my leg, causing me to fall on my knees. He pulled my head back and shoved my head forward. I stayed there looking at the ground until I heard them leave. I got to my feet and left that office feeling humiliated. I did not tell anyone about this incident except my mother, who I told months later. I felt depressed at home and full of hatred towards cops.
This event transformed my views towards police officers and made me realize that the stories expressed in the neighborhood were legitimate. I was 16 years old when this happened, and events like this impacted my life in a major way. I did not view law enforcement as the protectors of the city but as the enemies of the town.
The local police department was never in good standing with the gang I belonged to, but events like this forced us to ostracize them for good. All of us viewed the police officers as corrupt and did not have any faith in the justice system. We figured that no one would believe us since we were gang members, and besides, it was our word against the word of government officials.
It was an experience that helped me become aware of the "dark figure of crime," a term criminologists and sociologists use to describe unreported crime. Many of the homeboys had similar and worse experiences than mine, but they never reported police brutality encounters. In Fresno County, this often happens to individuals involved in gangs.
Police brutality is rarely discussed in my community, and this needs to change. I am sure there are many more stories like mine, but they have remained silent for so long. I do not think all police officers are bad, but we do have to share these stories to prevent future incidents of excessive force from happening. The criminal justice system is not perfect, but no system is.
The best I can do is tell my story to expose the injustices I went through. I now use my experience to educate other young men and women about excessive force and to encourage them to not be afraid to speak out against police brutality. No person of any race should ever have to endure the humiliation I suffered. The good thing about this story was that those two officers were convicted of conduct unbecoming an officer years later.
Sergio Coronel is a graduate of Sanger Adult School, Reedley College and California State University, Fresno, where he received two bachelor's degrees, in history and criminology. He works for Focus Forward, an organization creating positive change for youth in the Fresno County juvenile justice and child welfare systems, and is currently pursuing a master's degree in criminology.
Editor's note: After the world rose up against the killing of George Floyd and Breonna Taylor in the summer of 2020, and the rise and visibility of white supremacy extremists, several members of Impact Justice's California Justice Leaders wrote personal blog posts to reflect on their experiences with the justice system and law enforcement. For the next month, we will publish these stories in partnership with Juvenile Justice Information Exchange.