We're at an important crossroads on how law enforcement agencies and courts are using big data and new technologies. Will they be used to reduce incarceration rates or to exacerbate unjust, biased enforcement patterns in policing? This is the moment to ask hard questions about how these systems are developed and what kinds of checks are in place to ensure they meet high ethical standards.
This is precisely what the Justice Data Accountability Project (JDAP) at Impact Justice is doing. We've gathered the nation's foremost experts in law enforcement, machine learning, civil rights, and law and academia to guide the use of these systems in policing. And we are developing new tools for local governments that are considering putting them into place.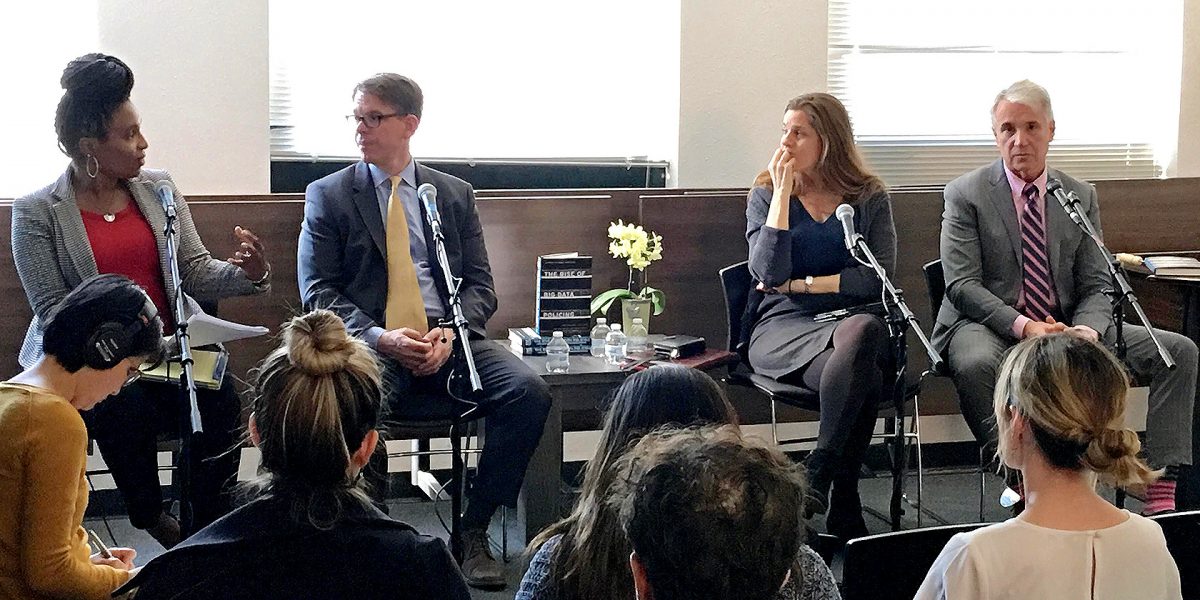 On March 7, 2018, the JDAP project hosted a panel discussion at Impact Justice's Oakland office to explore the challenges and opportunities of these new systems and offer ideas on ways forward with a distinguished panel of experts in law, policing, and big data. The forum was part of Impact Justice's Impact/Ideas series of occasional conversations, book discussions, and panels designed to provoke fresh ideas about the future of our criminal justice system. The panel featured:
George Gascón, the District Attorney for the City and County of San Francisco. Prior to his appointment in 2011, Gascon served as Chief of the San Francisco Police Department. During his tenure as DA, Gascón has implemented a series of reforms and initiatives focused on bringing more data-driven solutions to preventing crime and recidivism. Most recently, he has led efforts to reduce the role of money in pre-trial decision-making, increasing the use of risk assessments and diversion programs in San Francisco bail and sentencing decisions.
Andrew Guthrie Ferguson, a professor of law at the University of the District of Columbia David A. Clarke School of Law and a nationally-recognized expert on the use of big data systems in policing. His new book, The Rise of Big Data Policing: Surveillance, Race, and the Future of Law Enforcement, examines how surveillance technology and predictive analytics shape modern policing.
Christy Lopez, a distinguished visitor at Georgetown Law School and former Deputy Chief in the Special Litigation Section of the Civil Rights Division at the U.S. Department of Justice. While at DOJ, Professor Lopez led the team that investigated the Ferguson Police Department as well as investigations of many other law enforcement agencies, including the Chicago Police Department and the Los Angeles Sheriff's Department. She also served as a federal court monitor of the Oakland Police Department.
Antoinette Davis (moderator), Director of Impact Justice's Research and Action Center. She is an expert in research, analysis, and evaluation, particularly around criminal and juvenile justice system reform. Her work is centered on finding strength-based solutions to complex systemic and social issues. She is currently leading several multi-site, mixed method research projects and has authored research reports on such topics as youth incarceration and the harmful effects of adult incarceration on girls.
During the discussion, Andrew Ferguson framed a number of the key concerns with the use of predictive systems and other big data software in law enforcement. DA Gascon and Christy Lopez talked through some of the on-the-ground opportunities and challenges associated with deploying these kinds of systems. There were a number of great questions from the audience representing a wide array of interests from defense attorneys, human rights advocates, and courts.