Ashaki Scott's brief incarceration was a wake-up call for the 25-year-old. She realized that one wrong decision could change everything. 
Thanks to a referral from a community organization, she was introduced to California Justice Leaders, Impact Justice's AmeriCorps program specifically designed for justice-impacted young people. From that moment on, she felt supported on a path to success.
"I got to learn about the California Justice Leaders-AmeriCorps (CJL) program through Hope Solutions," the Greenbrae, California native said. "My case manager told me about the opportunity, and she thought it would be great for me to apply, and I'm so glad that I did." 
Scott began her CJL journey in early 2022. After a few months of working at Bay Area Community Resources, she evolved into a bold leader and reentry navigator who helped young people facing similar circumstances apply for honorable discharge and successfully reintegrate back into society.
"I think I was kind of nervous and was unsure of my capabilities and how well I could really help, but once I started to realize it was less about me and more about helping the other person, it really has been gratifying and nice to be able to work one-on-one with a someone who has been in a situation similar to mine," Scott said.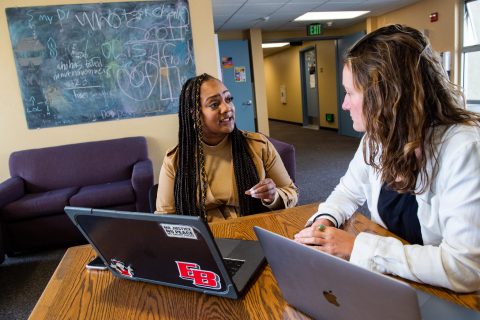 One of her biggest supporters, Mel Flanagan, who serves as Senior Program Manager of CJL, noted Scott's transformation.
"She has such a way with young people. She is approachable. She makes them feel at ease," Flanagan said. "She always starts with relationship-building and checking in on how they're doing, and she gets things done."
Scott credits CJL with giving her a second chance. Through specialized training and career support, she has found her purpose.
Scott is now working towards earning a bachelor's degree in industrial psychology from California State University, East Bay. "I do believe that everything happens for a reason, because had that involvement with the justice system not happened, I wouldn't have this opportunity to work with California Justice Leaders," said Scott.
CJL was launched in February 2020 by Impact Justice and since then has helped scores of justice-impacted individuals succeed in their reentry journeys throughout the state of California by helping them navigate questions related to housing, employment, and education.
Now in its fourth year, and having recently recruited its largest cohort ever, CJL is expanding throughout the state of California and will nearly double the number of people enrolled in the years ahead.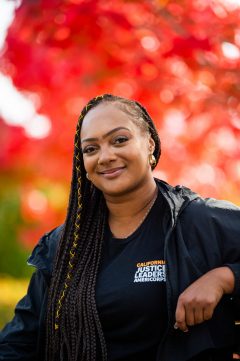 Scott is looking to the future as she pursues a career in industrial psychology, which combines her love of business and psychology. She also landed a finance role at Impact Justice. Her ultimate goal is to work in human resources, business or marketing.
She wants more people to take a chance on formerly incarcerated people. 
"I believe that people do grow, people do change, and people do deserve second chances," Scott said. "So I would encourage people who have these stereotypes about people who are formerly incarcerated to see them as a person and get to know them, not just their rap sheet."
This is something she has even had to work with herself on, as her past experiences had made her extra hard on herself. However, she's learning to lean into her greatness, one day at a time.
"I'm just trying to be the best person I possibly can be, and I'm trying to grow each and every day to be better than the person I was yesterday."