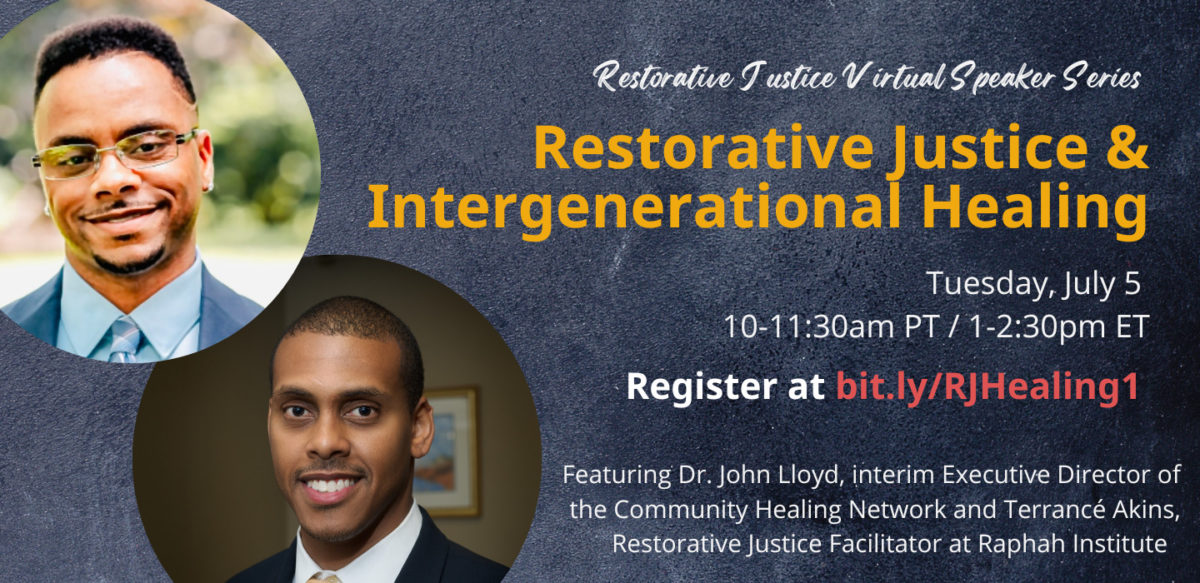 Tuesday, July 5
10-11:30am PT / 1-2:30pm ET
We hope that you'll join us for this upcoming webinar, a conversation with Dr. John Lloyd, interim Executive Director of the Community Healing Network and Terrancé Akins, Restorative Justice Facilitator at Raphah Institute. The conversation will explore the ways communities of color are using restorative justice to heal from intergenerational trauma. This event will be co-facilitated by Jenna Kress, Program Associate at Impact Justice and Sandra Rodriguez, Senior Program Specialist at Impact Justice.
This webinar will be the second event in the Restorative Justice Project's virtual speaker series that aims to explore the intersectional nature of restorative justice and identify opportunities for deeper collaboration. Our hope is that by combining our knowledge and reaching outside of our silos, we can move collectively towards realizing our vision for healing, healthy, and thriving communities.
---
About the speakers:
Terrancé Akins is a community reformer and activist. He advocates strongly for restorative justice and human evolution for the underserved population. His heart is for enriching and empowering the youth through youth life coaching to discover their greatness and take their place in history. Driven by his faith, his mission is to make a generational difference.
Dr. John D. Lloyd is an executive-level professional with 18+ years of leadership and
management experience in strategy consulting and organizational development, both in the
nonprofit and private sectors. Dr. Lloyd has proven experience partnering with senior level
executives, boards, and staff members on short-term and long-term organizational development
objectives. Dr. Lloyd is currently serving as Interim Executive Director for Community Healing
Network (CHN). Prior to CHN, Dr. Lloyd has served as an Interim Executive Director on several
engagements and as a nonprofit leader, from 2009-2018, Dr. Lloyd, co-founded and led
Vanguard & Associates, a strategy consulting practice focused on providing strategic planning
and organizational development services in the nonprofit and private sectors. Further, Dr. Lloyd
is currently an adjunct faculty member at Boston University, Boston College, and Simmons
University. He is also on the Board of Directors, African Economic and Community
Development Foundation, serving as its Chair, Strategic Planning Committee. Dr. Lloyd holds an
Ed.D. in Organizational Learning and Development, University of Pennsylvania, an MBA,
Bentley University and BS, Plymouth State University. A native of Sharon, Massachusetts,
John currently lives in Randolph with his wife, Dr. Wanda Montañez and their yorki-poo
Cinco.
About Community Healing Network:
Community Healing Network is leading the global grassroots movement for emotional emancipation to end the centuries-old association between Blackness and inferiority, and to restore the rightful association between Blackness and humanity.
CHN is mobilizing Black people across the Diaspora to heal from, and extinguish, the European lie of White superiority and Black inferiority: the root cause of the dehumanization of African people and the underdevelopment of Black communities around the world.
That lie is the ideological bulldozer that cleared the way for the Transatlantic trafficking and enslavement of Africans, and the colonization of Africa. The lie essentially cast African people out of the circle of humanity. CHN is mobilizing Black people to free ourselves and our children from the lie—to reclaim our rightful place in the circle.
The lie is the thread that runs throughout the fabric of systemic anti-Blackness. Freedom from the lie is an essential foundation for emotional reparations, healing, and wellness for Black people. To that end, CHN is working to make 2021 to 2030 the Decade to Defy the Lie of Black Inferiority and Embrace the Truth of Black Humanity.
CHN has developed a range of initiatives to carve out physical, psychological, and spiritual Black-only spaces for healing from the multigenerational damage caused by the lie.
Our Rapid Response Ubuntu Healing Circles are deployed in times of racial crisis. Our signature initiative, the Emotional Emancipation Circle, is a culturally grounded, self-help support group process originated by CHN and developed in collaboration with the Association of Black Psychologists (ABPsi). EE Circles provide spaces for Black people to do the work necessary to write our own emotional emancipation proclamations and develop concrete action plans for escaping the Eurocentric narrative grounded in the lie. HN and ABPsi have planted seeds for EE Circles in more than 50 cities in the United States, Canada, the Caribbean, the United Kingdom, and South Africa. This movement is resonating with Black people across the Diaspora, providing opportunities for us, wherever we are, to free ourselves from the lie—to clear the way for our children to flourish.