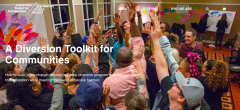 Download
A Diversion Toolkit for Communities was primarily created for community-based organizations interested in building pre-charge restorative justice diversion (RJD) programs that reduce youth criminalization while meeting the needs of people harmed. The Restorative Justice Project at Impact Justice created this resource in response to the stream of requests from people across the United States who are eager to launch their own restorative justice diversion programs. The toolkit mirrors the first phase of technical assistance that the Restorative Justice Project currently provides to community-based organizations across the country.
The Restorative Justice Project's approach to RJD detailed in the toolkit evolved from the successful pilot RJD program in Alameda County. Included in the toolkit is a step-by-step guide through the initial stages of implementing this model of an RJD program, including building and strengthening relationships with community members and organizations, getting buy-in from system partners, and setting up a case referral process. Also included are templates and materials for download and customization. The toolkit directs organizational staff to external resources, such as Impact Justice-vetted organizations that offer recommended trainings such as Community Circle Process, Harm Circles, and Implicit Bias. After completing the toolkit and receiving the recommended trainings, the final step is to sign up for updates about attending a Restorative Community Conferencing (RCC) training from the Restorative Justice Project.
Questions addressed in the toolkit include:
What are restorative justice and restorative justice diversion?

How can RJD meet responsible youth and survivor needs?

Is this work the right fit for your organization?

How can organizations build community support for RJD?

What do organizations need to know about working with legal system partners?

What kinds of case are best for RJD?

How can organizations fund their RJD work?
A Diversion Toolkit for Communities launched on June 10, 2019 at http://rjdtoolkit.impactjustice.org/.