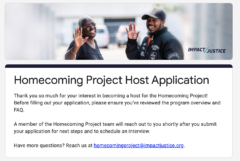 Download
The Homecoming Project is an innovative re-entry housing program that matches formerly incarcerated people with community hosts for up to six months.
Community hosts receive a subsidy in exchange for renting a room to someone returning home from lengthy prison terms. There are opportunities to get to know potential participants through matching sessions before a housing arrangement is finalized in order to create a compatible co-housing situation. Hosts also receive regular trainings and support, and have access to an on-call staff person at all times.
Apply today to become a community host!